24th California Unified Program Annual Training Conference
Theme:
Together Towards Tomorrow
When:
March 22 thru March 31, 2022
Where:
Virtual
Register
Submit Session Abstract
Submit Award Nomination

ENTER 2022 VIRTUAL CONFERENCE PLATFORM (MUST BE REGISTERED...WELCOME ABOARD)
2022 CONFERENCE AGENDA: PDF AGENDA| ONLINE AGENDA
2022 CONFERENCE SURVEY - RELEASED MARCH 29, 2022
2022 CONFERENCE REGISTRATION: ONLINE REGISTRATION | REGISTRATION FORM(Word Doc)
The 24th California Unified Program Annual Training Conference will be a VIRTUAL event each T, W & Th from March 22 thru March 31, 2022 - This conference provides training in subjects related to enhancing the Unified Program implementation and improving consistency and coordination between the 81 CUPAs and 24 participating agencies (PAs) throughout California. To attend the training conference, pay GOVT or NON-GOVT fees online, become a sponsor or exhibitor or apply for a scholarship...follow the on screen directions under each tab linked on the left menu on this page.
For 2022 Conference Registrants: Starting February 22, 2022, you will have EARLY access to the 150 2021 Virtual Conference Presentation Videos (and earn CEUs) AND participate in the 2022 Annual Conference (and earn CEUs) after you have registered for the 2022 conference (by being a speaker, receive a scholarship, be a paid vendor/sponsor or pay for your registration HERE).
Pay for additional conference services, such as additional registrations, exhibitors, sponsors, demos on our registration page.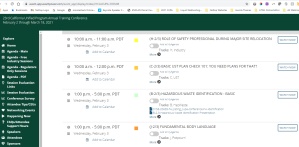 If you were registered for the CUPA-2021 Virtual Conference, click here to LOGIN and view/review over 150 presentation videos and earn CEUs. You still have access to the 2021 Conference Videos and can earn CEUs through March 18, 2022.
Download and read the 2022 CUPA/PA Scholarship Announcement notice.
The CUPA Forum Board (CFB) has been recipient to money designated for training or specifically for the annual CUPA Conference from a variety of enforcement cases. In most situations, court settlements specify conditions for the allocation of funds for training/conference costs and the CFB is restricted from distributions outside of the court's direction. A majority of the funds are allocated for use by Unified Program Agencies and are intended to train technical staff or assist in funding travel and expenses at the annual CUPA Conference.
Scholarship applications are due on or before December 31, 2021 with Manager approval. They are available for CUPA and PA technical staff only, and cover the costs for registration fees. Independent contractors DO NOT qualify for scholarships.
Award notices will be emailed to individuals and managers in early January. Scholarship recipients are required to provide an overall conference evaluation and individual session evaluations for each class attended.
SCHOLARSHIP RECIPIENTS: Since we are holding a Virtual Conference in 2022, no volunteer assignments are required for this conference.
Submit Scholarship Application
Select Volunteer Assignment
Conference surveys help us prepare for each training conference. Please submit a conference evaluation on your last day of the training conference to let us know how we are doing. Please note that this conference survey is required for all scholarship recipients.
Submit Conference Survey
The online Q/A form is to submit questions to training session instructors before or during the training conference. Have a question that you would like to ask before or after a session? Use the Q/A form, select the specific session from the list, compose your question and submit it. All questions will be forwarded to the trainer/instructor.
Submit Questions