CUPA 2022 Virtual Sponsor Information Page
This year, the CUPA Training Conference SPONSORS will enjoy the added benefits of a VIRTUAL PLATFORM providing more company exposure than ever before as we hope to have 1500+ CUPA staff present and thousands of Industry staff participating in this online training event.
Sign up to become a Sponsor today by registering HERE or get the Conference Prospectus HERE.
Sponsorship Opportunities include:
Posting your logo on the website at www.calcupa.org and the virtual platform
Platinum Sponsors will be posted on the front page of the Virtual Platform Splash page
Sponsor banners will have continual exposure to being in front of all of our attendees and speakers
Raffle Prize Sponsor - attract attendees to your booth or for company recognition
Additional Information
We are making this conference much more than just a bunch of Zoom meetings. We will be running the conference for the second year in a row from an engaging virtual platform that we have purchased which will bring us all together in new and exciting ways. This platform has been used for hundreds of virtual conferences all over the world...with great success.
Engagement with virtual-ease!
Meetings and chat rooms for attendees
Sharing business cards
Meetings with speakers
Meetings with exhibitors and sponsors
Training will consist of three concurrent tracks of presentations running from 8 am to 5 pm every Tuesday through Thursday beginning March 22 through March 31, 2022. With our virtual event site full of presentations and activities for 2 weeks, this expands the length of time and opportunities to connect.
2022 Sponsorship Opportunities
With a limited number of premium packages that maximize exposure, logo placement will be determined on a first come, first served basis.
A Splash (or Home) Page that welcomes everyone into our Virtual Lobby and gives a sense that attendees have arrived at the 24th California Unified Program Annual Training Conference.
17 Platinum Sponsors can post their logo location from any of the wall logos or a rotating footer banner ad at the bottom of the page. Wall logos are stagnant and do not change. Footer banner ads will rotate. Either location will link to your Exhibitor or Sponsor page which can have the marketing and sales information you want to share and promote.
Below is brief overview of all the levels of Sponsorship and their benefits. Download our full Conference Prospectus which contains complete information about the Virtual Conference, Exhibitor Information, Sponsorship Opportunities and Registration.
Registrations included in some Sponsorship levels
Virtual Exhibit Booth included in some Sponsorship levels
Logo, listing and link to company website from Virtual Platform Sponsor Page
Limited Virtual Platform Demonstrations at an additional cost
Logo, listing and link to company website at calcupa.org
Logo on Sponsor slide at the beginning of each presentation
Sign up to become a Sponsor today by registering HERE or get MORE CONFERENCE INFO HERE.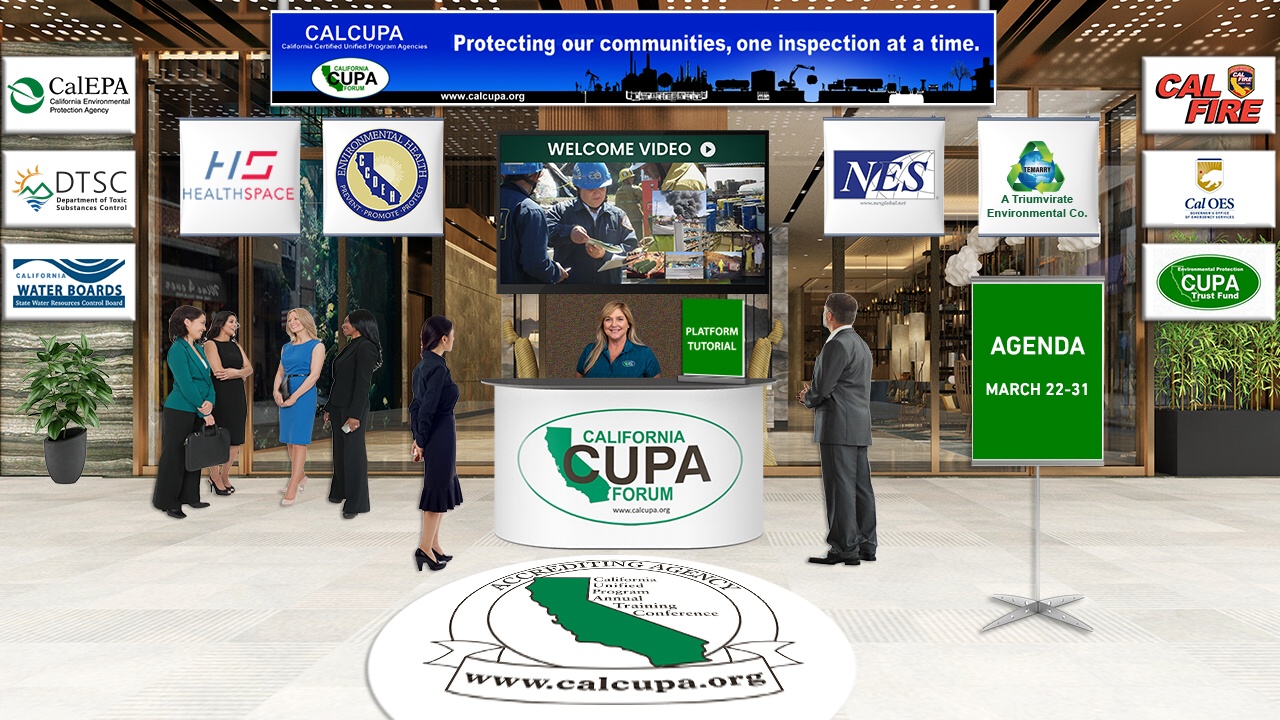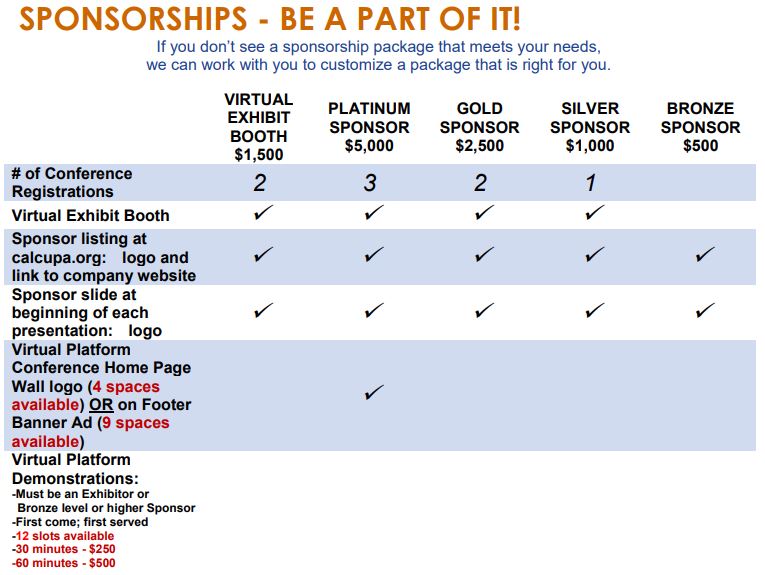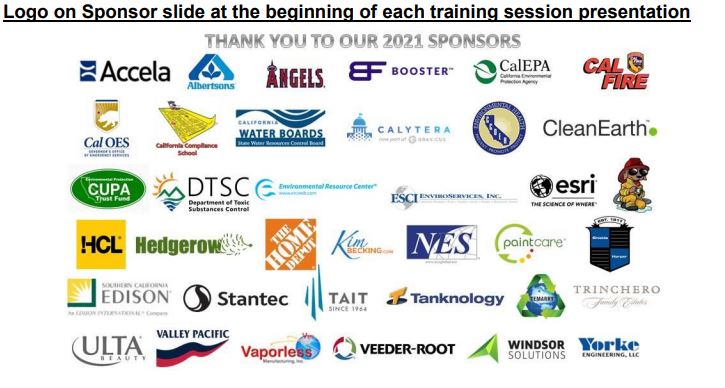 Sign up to become a Sponsor today by registering HERE or get MORE CONFERENCE INFO HERE.