Recently Added Courses (see details below)
33 Courses Available and new Courses added weekly

09/20/2023

HUMAN FACTORS

08/06/2023

TECHNICAL DETAILS: SINGLE-WALLED SYSTEMS

08/04/2023

CALARP 101

08/03/2023

APSA REFRESHER

08/02/2023

REMOTE SITE CONSOLIDATION OF NON-RCRA HAZARDOUS WASTE

07/31/2023

SHOOTING RANGE MAINTENANCE GUIDANCE
Welcome to CalCUPA's New Learning Management System (LMS). From this site, all CUPAs/PAs receive complimentary indefinite access to the LMS and all 2023 Annual Conference Full Registration Attendees will have access (through December 31, 2023) to a growing list of CUPA Program related Courses. Also, if you have a Full Conference Registration for the 2024 Annual Conference, you will have unlimited access to our LMS Courses through December 31, 2024. Over the next few months, we plan to convert the rest of the 26 Sessions that were recorded at our recent Annual Conference into Courses on our LMS.
Get the Moodle App to stream Courses on your cell phone/tablet where you can easily access Course content - browse the content of your courses, watch/listen to Video Training, even when offline AND Track your Course progress - Check completion progress in Courses and browse your learning plans.

NOTE: Once you download the app, you will need to connect to the CalCUPA LMS (learn.calcupa.org) and login with your calcupa.org login the first time.

There will be two different types of Courses:
Earn CEUs - This is where you can walk through a learning path, watch videos, take/pass quizzes and complete the final step of filling out a Course Evaluation. When all of these steps are accomplished, you will earn a CEU Certificate that will be posted immediately to your Course History on this website in your Members Dashboard.


Informational Courses - This type of training will include written materials & informational videos that will be posted in our website and provided to a variety of audiences for CUPA related programs. No CEUs will be offered for these Courses.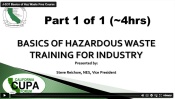 Special Video Offering: Free Industry Training 4 Hour Video - This video provides excellent information for industry and CUPAs/PAs on the Basics of Haz Waste. No CEUs are offered for watching this video, but it does include a large amount of helpful Haz Mat information.

For those that do not currently have access to the LMS, our current offering is as follows:
You can sign up to have 1 year of full access to the LMS on our Fees page. This will allow you to take as many Courses as you like (and earn ICC/REHS CEUs)within this one year period.
We are continually adding Courses and plan to add the rest of the 26 Sessions that were recorded at our recent Annual Conference into Courses on our LMS.
By the end of the year we plan to have over 75 Courses on this LMS as we prepare for the 2024 Annual Conference.
Once you are allowed access to enroll in Courses or to Continue your Courses or view your completed Courses, you will see the following icons adjacent to each Course listed below:
| | | | |
| --- | --- | --- | --- |
| | Enroll In A Course | Continue A Course | View Completed Course |
PLEASE NOTE: This LMS is still under development and your feedback is greatly appreciated. Please send any comments, ideas or questions to webmaster@calcupa.org ...Happy Learning!!!
Search found 34 results