24th California Unified Program Annual Training Conference WAS HELD IN VIRTUAL SESSIONS from March 22 thru March 31, 2022
ONLINE AGENDA | CONFERENCE PROSPECTUS PDF | SPEAKERS INFO | SPEAKER PRESENTATIONS | SPONSORS INFO | EXHIBITORS INFO | PREVIOUS CUPA AWARD WINNERS
CONFERENCE SUMMARY -
State Sponsors: CalEPA, DTSC, OES, SWRCB, State Fire Marshal
Local, Attendees: Local, state, federal, environmental health, HAZMAT and Fire HAZMAT agencies, industry, environmental consultants and organizations, academia, students, public officials, sponsors and exhibitors.

Sessions total = 80 different training sessions offered - 156 REHS Continuing Education contact hours and 11.5 ICC units provided in 14 different tracks
Total attendance = 3,381 , 1,445 paid registrants, 1,936 Free Local Industry Session = 3,381 Total
CUPA & PA Scholarships = 575 full registrations
Student Scholarships Sponsored = 35 full conference registrations Sponsored by the CUPA
Environmental Protection Trust Fund from 26 Universities/Colleges
CalEPA & State Sponsored Agency attendees =38 on contract
Speakers = 156
Moderators = 90
Exhibitors & Sponsors = 30 Booths
UP Leadership Awards –
Angela Samayoa, Long Beach CUPA, Outstanding CUPA Individual
Devra Lewis, Contra Costa County UPA, Outstanding CUPA Individual
LAFD CUPA, LAFD JHAT, Aristatek and LAFD ITB, LAFD Hazmat Disclosures and PEAC-Savings Lives
Outstanding Innovation
CalARP and Refinery Safety, Torrance City Fire Department, Outstanding Participating Agency
Laura Fisher, State Water Resources Control Board, 25 years of Service
Conference Manager = Sheryl Baldwin
Registration Staff = Michele Cowdery, full time; Alexis Cary (student college marketing & print
HAZWOPER cards)
Webmaster = Tim Snellings, Nettop Publishing & Matt Voss (PERL Programmer)
ProAV Technical support – John Coronado, Vasilios Alagiannis, Bryan Beisel & Jose (4 AV staff)
Event Power – 3 staff - Stephanie Program & 2 Tech Support
2022 CONFERENCE COMMITTEE
Chairmen: Marjorie Terrell, San Mateo County EH
Conference Co-Chairs:
Marjorie Terrell, CUPA Conference Co-Chair, San Mateo County EH (Board member)
Matt Kauffman, CUPA Conference Co-Chair, Contra Costa County EH (Board member)
Jason Boetzer, CUPA Conference Co-Chair, Cal EPA
Kristen Ward, CUPA Conference Co-Chair, San Bernardino County Fire Department
ENTER 2022 VIRTUAL CONFERENCE PLATFORM (MUST BE REGISTERED...WELCOME ABOARD)
2022 CONFERENCE AGENDA: PDF AGENDA| ONLINE AGENDA
2022 CONFERENCE SURVEY - RELEASED MARCH 29, 2022
2022 CONFERENCE REGISTRATION: ONLINE REGISTRATION | REGISTRATION FORM(Word Doc)
The 24th California Unified Program Annual Training Conference was a VIRTUAL event each T, W & Th from March 22 thru March 31, 2022 - This conference provides training in subjects related to enhancing the Unified Program implementation and improving consistency and coordination between the 81 CUPAs and 24 participating agencies (PAs) throughout California. To attend the training conference, pay GOVT or NON-GOVT fees online, become a sponsor or exhibitor or apply for a scholarship...follow the on screen directions under each tab linked on the left menu on this page.
For 2022 Conference Registrants: You also have access to the 150 2021 Virtual Conference Presentation Videos (and earn CEUs) AND participate in the 2022 Annual Conference (and earn CEUs) after you have registered for the 2022 conference (by being a speaker, receive a scholarship, be a paid vendor/sponsor or pay for your registration HERE).
Pay for additional conference services, such as additional registrations, exhibitors, sponsors, demos on our registration page.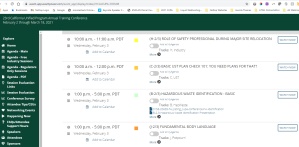 If you were registered for the CUPA-2021 Virtual Conference, click here to LOGIN and view/review over 150 presentation videos and earn CEUs. You still have access to the 2021 Conference Videos and can earn CEUs through March 18, 2022.
---
2021 Conference Shortcuts
- PDF Agenda
- Conference Prospectus
- 150+ PDF Session Presentations

Quick Links: MEMBERS LOGIN | 2020 Industry Presentation | 2020 Speaker Presentations | My CEU Certificates (You must be logged in) | NEWEST Documents Added/Updated